Toronto, Ontario, May 6th, 2021- TritonWear, the Toronto-based swimming performance company known for its groundbreaking swim tracker and world-class data, is proud to release the All-New TritonWear App. The upgrade unlocks Triton Score along with enhanced new features that promote a whole new way to train.
Tristan Lehari, Founder and CEO, says,'' Data collection and accuracy have always been the cornerstone of what we do at TritonWear, right from the very beginning. But we've also always known just collecting data isn't enough, we need to help people utilize it. We're extremely excited to announce that through years of R&D we've been able to develop a solution to fully automate the analysis of our world-class data. We've made it possible to quantify the complex concept of "training well", and deliver it in an easy-to-use training system that actually helps athletes swim faster.
Measuring performance starts with accurate data collection for every workout. TritonWear's small swim tracker tucks comfortably into swim caps, capturing 30+ data points for every lap. The new app further augments user experience by breaking data into digestible scores and personalizing feedback to enable consistently better training.
How to use AI-powered analytics to know how well you're training.
Training well starts with the Triton Score.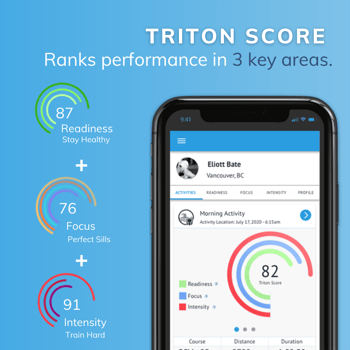 Triton Score tracks Readiness, Focus & Intensity for every workout, enabling swimmers to know how well they trained with a quick glance at a single score - the higher the score, the better your training went.
Readiness

tracks load change over time to showcase the athlete's readine

ss to train and overall health. Status recommendations alert users when they are at risk of overtraining or undertraining, helping them ensure they are increasing training load safely.
Focus

summarizes how well each athlete executes their technical skills and highlights what to focus on next to swim faster.

Intensity

takes the guesswork out of how hard the athlete trained and provides recommendations to keep the body primed for performance.
Triton Score and Live Training combine to become the most comprehensive and easy-to-use training system for athletes and coaches to redefine their limits. It all starts with observing Live Training. Users can see their workout build in real-time as they swim independently or with the whole squad at once. Next, they learn how Triton score fluctuates and explore how Readiness, Focus, and Intensity impact their score.
Along with a host of new enhancements and tools, TritonWear strives to connect the swimming community around the world. TritonWear Teams enables recruiters, coaches, and support staff to build integrated team structures and even track an entire nation. Athletes can create and join teams with complete control over how they share their data and progress. Finally, users are invited to connect with other TritonWear users around the world through the International FIT Squad, a community where they can track, encourage, and challenge each other like never before.
Dr. Megan Holtzman, the Chief Scientist at TritonWear Inc., says, '' We've combined millions of splits of analyzed swimming data to produce individualized AI-based models that can leverage a swimmer's strengths and weaknesses. With our proprietary algorithms, we can detect exactly what each athlete swam at the pool and distill that data to show them what to focus on to reach their goals faster. ''
Sporting a series of AI breakthroughs, the all-new TritonWear app does far more than just display data. It acts as a personal coach for every athlete delivering personalized training recommendations that guide users to discover their path to improve. Insights, derived from TritonWear's high-level analytics and machine learning, empower athletes to adjust training, master progress and swim faster.
Know how well you're training every day. Get started for as little as $20 with your free Triton 2 swim tracker and the all-new TritonWear app.
About TritonWear
TritonWear is the world's most comprehensive swimming analytics platform, bringing elite training tools to athletes and teams. With a sleek wearable device that tucks comfortably into a swimmer's cap, TritonWear captures and relays 30+ data points in real time to any mobile device on deck. Triton Score translates athlete data into actionable insights, highlighting the path to faster swimming.