TritonWear Intensity takes the guesswork out of how hard your athletes swam this workout to better gauge their physiological responses to training. The Intensity score considers the swimmers' Distance, Energy, and Work vs Rest, providing objective criteria on how hard that workout felt and insights into why it felt the way it did.
How TritonWear measures Intensity?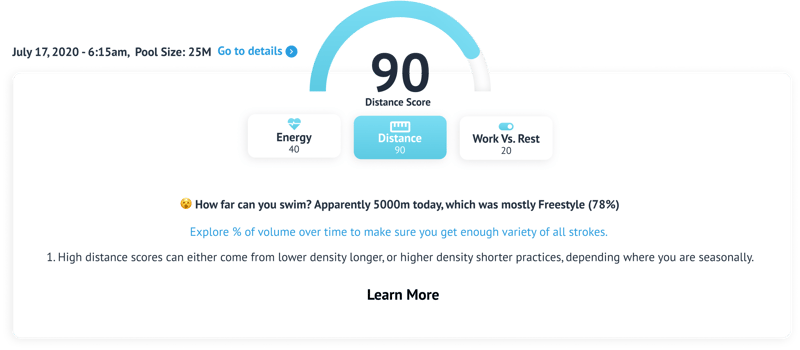 TritonWear Intensity is a weighted average between three components of training: Energy, Distance and Work Vs Rest. Changes in any of these three components will impact the Intensity score.
Energy looks at the energy systems the swimmer engaged and gives more points for training in higher zones than easy swimming.
Distance incorporates the volume a swimmer hit this workout relative to how much they usually complete in a workout.
Finally, Work to Rest checks how much of the workout the athlete spent swimming rather than hanging out at the end of the pool.
One thing to note is that the Intensity score considers the entire workout, not just the main set; this is important to keep in mind, especially when you set your Plan Intensity at the start of your workout.
Now let's dive deeper into each component to understand how their scoring works and what other insights you can find under each of those in the app.

Energy
The Energy score is calculated based on how much time each swimmer spent training in each zone. The more time swimmers train in higher zones, the higher the Energy score. Coaches, however, plan each practice carefully to evoke a certain stimulus. The goal is to engage different energy systems and enhance their athletes' ability to utilize oxygen, allowing them to sustain higher intensities before fatigue sets in.
TritonWear tracks and maps out training zones based on AI-driven Critical Swim Speed. Then it offers insights like Time In Training Zone and the Aerobic vs. Anaerobic split, helping athletes and coaches understand what energy systems have been engaged during a single workout and over the past 7, 30, or 90 days.

Distance
The Distance score considers how much distance a swimmer completed this practice compared to what they usually hit in past practices. Workouts with higher distances than usual will get scored higher. However, since most practices are a set length, swimmers generally hit a similar distance to past practices. It's important to note that arriving late or leaving earlier will impact the total distance swam and thus the Distance score. In addition, if higher rest is planned for a workout, this will also impact the Distance score.

Work VS Rest
The Work vs Rest score looks at what percentage of the workout was spent swimming (and not resting). The more time swimmers spend active in the water, the higher the Work vs Rest score will be. It's important to note that it takes into account the entire workout; this means any rest time between reps or sets, not to mention the time used for coaches to explain sets or to show drills etc. TritonWear further breaks down the final component of Intensity by showing you the total workout time, swim time, rest time and active %.

How to scale team performance faster?

At TritonWear, we recognize that although training plans are carefully designed to predict expected fatigue (following intense training), what happens in the water often doesn't align with the plan.
Understanding swimmer adaptations to training requires frequent iterations. TritonWear Focused Iterative Training (FIT) enables swimmers to track their training and ensure they are hitting the right intensity at the right time in the season without sacrificing technique (Focus) while also keeping athletes primed to perform (Readiness).
Integrating science, data and scores into your seasonal plan will scale your team's performance faster. Otherwise, you risk spending valuable time on things that don't work, getting less return on your time investment than you should.
If you see yourself as a coach with a growth mindset or someone ready to take coaching to the next level, grab this playbook; it's step-by-step guidance to help you integrate data into your training.