It's often hard to know where to focus first to get faster. We know the right work, in the right quantity and intensity, and at the right time is the fastest way to improve. How can we turn this into actionable steps?
Improving requires a series of steps that you repeat. Setting goals, tweaking and optimizing your readiness, focus and intensity and adjusting your training. We developed Focused Iterative Training, FIT, to help you improve in 3 simple steps: track training, find focus, master progress. This article will cover all the best practices in 'finding focus' to set you up for success.
How do you choose what metrics to focus on?
After you spend some time getting to know the Triton Score and how it changes over time, you'll need to dive a layer deeper and understand each metric. The first thing is to identify your biggest weakness and analyze how it's contributing to your overall performance. Identify the specific metrics you will focus on first. For quick access to insights on each of the metrics identified, you can set them up as your ''favourite metrics''. Then set a goal and monitor your focus comparisons.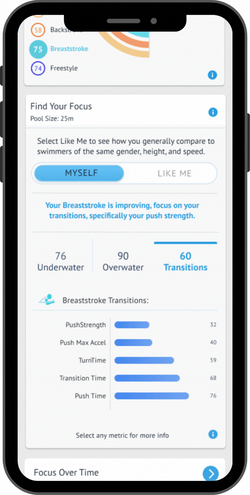 MYSELF
Focus comparisons measure your most recent activity against your previous bests or athletes like you. When you are looking at compare to ''myself'' you'll see how you rank in each specific metric. Are you improving more than what your typical is for each metric? Are you on track, or do you need to focus more on skill execution in each metric?
LIKE ME
When you are looking at comparing to swimmers ''like me'', you'll see how you are ranking in each specific metric compared to other swimmers your height and speed. Identifying the strengths and weaknesses of swimmers like you will offer you high-value intel you can use to maximize your performance.
Remember that elite swimmer have the best combination of metrics; they are not necessarily the highest scorers in individual metrics. The key is to strike the right balance between metric trade-offs. If, for example, speed decreases due to an increase in stroke rate, you'll notice a big drop in DPS. The fastest swimmers will have the highest stroke rate relative to their DPS.
Next, learn: Get FIT with TritonWear, Adjust.
Key Takeaway
Metrics and focus comparisons will offer you great insights into your swimming. You will start seeing patterns in metrics you excel in and identify others you need to improve on. Low scores will offer you the greatest opportunities for improvement. Don't focus on the score focus on what you can do to impact it positively.
As swimmers, we often overlook our weaknesses and focus our attention on refining our strengths. There will come a time where optimizing strengths will yield marginal improvements. Identifying and mastering your weaknesses can be the best return of investment. All you have to do is track your metrics, set realistic goals and strive to outperform yourself every day. Practice will make perfect, and results will follow.

Next, learn: Why a Low Score Isn't the End of the World.