TritonWear is an essential part of your daily swimming gear. Tracking all workouts will help you fully understand your swimming behaviour in the water and offer you insights to train smarter. Furthermore, you'll know your injury risk and training status and receive personalized recommendations for adjusting training to keep your body safe.
Calculating training load alone isn't enough; you need to track load change over time to assess injury and illness risk. It takes a lot of time and expertise to adjust training properly, so why not track your training and let technology do the rest?
Why tracking ALL workouts is important?
1. Develop Accountability.
Tracking all your workouts will help keep you accountable for your training goals. Are you thinking of skipping out on training or specific sets because you simply ''don't feel like it''? Tracking workouts will eliminate the mental struggle where we try to justify opting out early. Readiness will help keep you on track with the right workload increase to improve performance injury-free.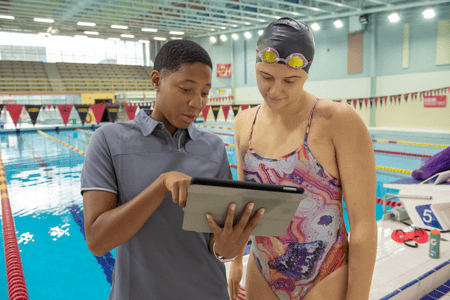 2. Optimize Training.
Training will need to have a progressive workload for you to hit your swim goals. Monitoring your Readiness every day will enable you to set realistic goals. Ambitious goals are great, but too soon and too much of a workload increase in intensity or duration may leave you vulnerable to injury and illness. Seeing how your Readiness and Load Scores fluctuate will provide you with the feedback necessary to optimize training safely.


3. Find Patterns and Modify Training.
Monitoring your Readiness in every workout and recording your nutrition, sleep, and emotional state will allow you to find patterns for why you feel at your best some days, while on other days, you are merely trying to get through the workout. How many times have you not felt your absolute best in the water? Chances are you went on with your day without much thought as to why you were feeling that way. The reasons aren't always easy to decipher.
Your Readiness, along with your notes on nutrition, sleep, and emotional state, will mean you have all the information you need to establish patterns. Interpreting all that information can enable you to keep yourself feeling at its best for longer.
4. Drive Focus and Direction.
Not only can tracking workouts help you craft better goals, but it can also serve as the blueprint for achieving them. Whether the goals are short-term or long-term, you can track data and turn them into actionable steps by interpreting your Triton Score.
Interpreting the Triton Score will offer insights that will drive your focus and direction. A difference in the Readiness Score and Intensity score may mean you are overtraining. If you are increasing load or intensity faster than your body can adapt to, you also maximize your risk of illness or injury. When you overtrain, your RPE (rate of perceived exertion) and load monitoring will be affected. Your Readiness will be low, and your Intensity Score will be high.
5. Stay on Track.
Tracking Readiness on all workouts will help summarize your progress best and accurately depict your body's status. But it only counts if you show up and track all your activities. Your load scores don't lie. The data you collect helps you check on your progress and the progressive load of training over time. Whether it's your load scores, RPE, status, or injury risk, your data provides a way to stay on track and accelerate your swim goals.
Ke
y Takeaway
To summarize, tracking all workouts is essential and offers plenty of benefits. In more detail, it helps you to: develop accountability, find patterns, optimize training, drive focus and direction and stay on track. Whatever the goal may be, you can leverage data to learn how to maximize your performance.
Next, learn TritonWear Focus.