Swimming faster when it matters most.
Ah, taper; there has never been another word in swimming that brings the same immense joy to swimmers and coaches as taper does! The rituals, the secret formulas and that time drop at the end of it make the blood, sweat and tears of training worthwhile. Pace work, skills, drills and specialization are the icing on the cake when it comes to tapering, and we can't help but feel like kids in a candy store. What's not to love?
By tapering, of course, we mean the last training phase (a few weeks) before a peak meet where the goal is to maximize performance for specific events. The key to doing this right is a balancing act between helping the swimmer maintain their physiological adaptations by reducing the load and eliminating the accumulated fatigue. How do you get swimmers ready to swim fast when it matters most? In the words of legendary Eddie Reese,'' taper is an art no one fully understands''. The one thing we do know is what works for one swimmer doesn't work for another.
Not One Size Fits All
In theory, tapering should be straightforward you lower the load, play around with the frequency, increase the intensity and fine-tune the skills and technique. While it's tempting to generalize taper (the time and work it takes), the truth is that all athletes react to it differently. It differs from male to female, sprinter to distance swimmers, their muscle composition and fitness level.
Gender. Generally, men need more taper than women.
Event distance. Sprinters need more time to rest and taper than distance swimmers.
Muscle composition or fitness level. Two sprinters that are training for the same event will not have the same lactate tolerance and production. The athlete that has higher tolerance or production will generally need more time to taper. Lactate clearance of course should also be considered here. If the athlete has high production and tolerance but is able to clear it easily he/she can take on more and will require less taper.
What happens while tapering?
During tapering, the anaerobic threshold increases, and the swimmer can perform at higher speeds and intensities for longer. This allows the swimmer to have that superhuman feeling of being more explosive and having more "easy speed" off the blocks. When swimmers train hard they get fit but they also get more and more tired and only when that fatigue dissipates they are going to be able to see the positive impact of training.
''It takes 2 weeks for the work that's been put in to start showingso hit that pace work before that.''
Specialization
1. Training
For most of the season, the goal of training is to maximize the athletes' physical capacity. Nearing a big meet however the focus shifts to speed work. Primarily focusing on high-quality race speed swims in shorter repeats combined with high rest. Any work from Vo2 and up should be targeting the swimmer's best stroke and event.
Avoid over tapering. Ove tapering is when you do more work too early and the swimmers hit their performance sweet spot before the actual meet. The most common mistake for this happens when you start to decrease volume by 15% each week, the swimmer starts to look good in the water and the coach increases the intensity and specifically the volume on that intensity. Feeling and looking good in the water has one pitfall, you may think you should do more but you need to resist the urge to train harder.
2. Nutrition
During the first two phases of the training cycle, swimmers need a higher intake of protein to help them repair muscle breakdown. Conversely, during tapering, swimmers need to replenish their glycogen and rely on carbohydrates for that. Carb intake can impact the peak lactate levels a swimmer can achieve. A low carb diet is found to negatively impact the peak lactate levels up to 25% , while a diet rich in carbs, can help increase it up to 25%. One good takeaway during tapering is for swimmers to have a post-workout snack rich in carbs 30 minutes after practice.
3. Recovery
Resting and recovering are crucial but too much or too little can hurt performance. So, aside from decreasing the training volume, it is important to allow the body a chance to rest and recover. This means either added rest during interval training, getting in an extra hour of sleep or a recovery swim. Swimmers that lift, will need to work on speed while continuing to gain strength.
Laser focus on the details
Leading into the competition, swimmers should focus on sharpening their skills and refining their technique. The drop in training load offers a unique opportunity for swimmers to fine-tune their starts, turns and finishes. Access to data can help with that. With TritonWear you can track data in real-time and check how fast the swimmers are:
Off the blocks (Dive Time, Dive Block Time, Dive Hang Time)
On their turns (Transition Time, Turn Time and Turn Rate)
Off the walls (Push Strength, Push Max Accel., Push-Off Time)
Underwater (Underwater Speed, Underwater Time)
Overwater ( Stroke Rate, DPS, Strokes, Stroke Index)
Not sure what they should be aiming for in the above metrics? With TritonWear you can check the swimmers ''Like Me'' section on their Focus Dashboard, and you will find what other swimmers (of similar speed, height and gender) are clocking in for each of these skills.
TritonWear Focus Comparisons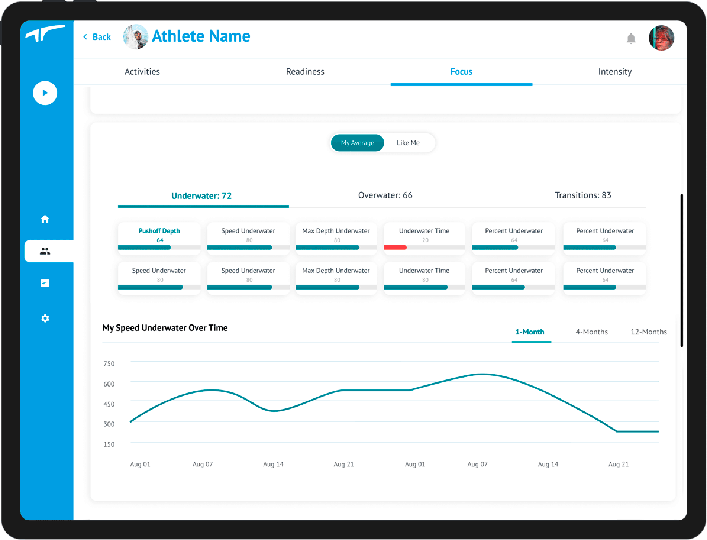 If you see yourself as a coach with a growth mindset, someone who is ready to take coaching to the next level, grab this playbook; it's step-by-step guidance to help you integrate data into your training.