The Men's 200 IM at the US 2021 Trials was arguably one of the fascinating races to watch. GOAT Michael Phelps himself was at a loss of words after Andrew's ground-breaking 23.77 FLY split with him earlier commenting that the last leg of Michael Andrew 200 IM ''shows training error''. Is Phelps right, or will Andrew's all-out all-the-time race strategy stand the test and claim the throne as the best athlete in the 200IM in Tokyo?
We have pinned the two winners of the US Trials 2016 and 2021 against each other to find out. The 200 IM is an event with great history and some unforgettable battles between Michael Phelps and world record holder Ryan Lochte.
Undoubtedly when they are on the blocks, these guys are ready to swim fast, but we are about to look at their metrics and uncover how they are doing it. To do this, we used our TritonWear metrics to analyze these races and broke them down by phase (transitions, overwater, underwater) the same way it's done in the TritonWear app. Here's the epic showdown:
→Transitions
Andrew started the race with a Dive Block Time (a.k.a reaction time) of 0.68, slightly faster than Phelps 0.70. Unfortunately, the faster reaction time did not translate to a better dive time or distance gained from the start.
On the other hand, despite Phelps being slightly slower on the reaction time, he still clocked the highest Dive Hang Time of 0.42 (stayed longer during flight and thus covered more distance) and Dive Time of 1.12 building his speed and distance advantage heading into the water. Both his Hang Time and Dive Time are the best among all the finalists from both Trials.
→Underwater
Andrew's Time UW is nearly the lowest in the field, but his speed is the fastest by far while Phelps stays midrange on both. Despite his great speed underwater, Andrew forfeits his advantage by surfacing too early.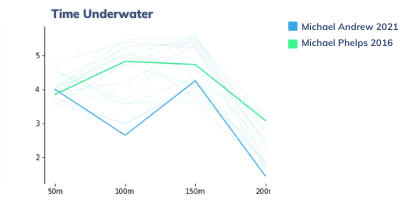 →Overwater
Andrew set out in a ground-breaking 23.77 for his FLY split 1.12 seconds faster than the world record split but perhaps went a little too much on his legs to go that fast. We are definitely seeing a tradeoff in Andrew's Backstroke Underwater Time ( 2.64) due to his Fly Overwater Speed. For the same comparison, Phelps split a 25.05 for his Fly with an Underwater Time in Backstroke of 4.82.
Andrew outperformed on Breaststroke Distance Per Cycle of 2.55 by pairing it with a strong Stroke Rate and securing a fantastic 32.29. Phelps, on the other hand, dominated in Freestyle by increasing his Stroke Rate to finish strong.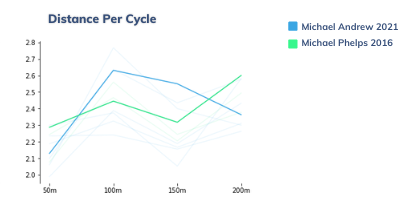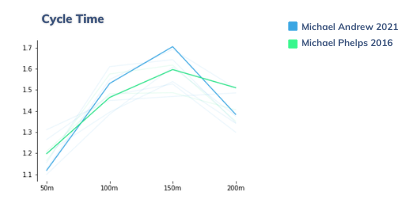 Key Takeaways
Andrew's Fly split created a big lead but was perhaps too fast, impacting his underwater time in backstroke and overwater speed in freestyle.
His powerful underwater created great speed on all splits but would benefit from improving his underwater time.
Lastly, to claim his throne as the world's best in the 200IM, he needs to keep his stroke rate up through the middle and end of his freestyle and power through to the finish.

How TritonWear Can Help You Swim Faster
Even though these athletes are elite athletes at the highest level, we were able to analyze their data and uncover insights for faster swimming, and we can do the same for your training. TritonWear is a sleek wearable device and app that helps you train well consistently, so you can swim faster. It captures and relays 30+ data points in real-time to any mobile device on deck. Triton Score analyzes your data and provides you with actionable insights highlighting exactly where you're excelling and what you need to improve on to swim faster.