How TritonWear is Changing Coaching for the Better
Using TritonWear technology is beneficial for coaches in more ways than one. As multiple users have stated, "it's like having another coach on deck." But lots of technologies assist coaches – what sets TritonWear apart is the way it fundamentally changes coaching.
(Want to learn how you can use swim technology to improve your training? Come chat with us!)
TritonWear units record over 15 performance metrics for all swimmers simultaneously during practice and instantly send the data to a single device. All of the compiled data is then displayed in clear visuals for each individual, making it simple to track progress in split time, distance per stroke, turn time, stroke rate, and many more metrics.
The software employs a simple yet powerful interface with easily-digestible graphs, giving coaches immediate insights that they can use to help give real-time feedback to swimmers.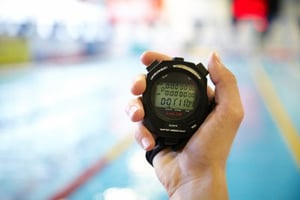 It's clear how this technology can disrupt traditional methods of coaching. How often do coaches get stuck with their nose in a stopwatch, yelling out splits for the majority of a main set?
TritonWear gives coaches freedom from these routine tasks, allowing them to put down their stopwatches and give each individual swimmer more attention.
Since implementing the technology in his program, Kevin Anderson, head coach of the Mississauga Aquatic Club, has had more opportunity to focus on details while coaching.
"I evaluate [my swimmers'] mechanics and their turns and their finishes probably 25 or 30% more now than I used to before," he says. "It's helped me as a coach focus more on the skills of the sport and trying to refine those skills for the athletes."
Jeremy Organ, head coach of the women's varsity swim team at Vanderbilt University found he was better able to give swimmers the attention they deserve when using TritonWear. "You know that the splits are going to be there, so you can focus on the kids more and you don't have to worry about blasting times away.
You miss a lot of the action when you're reading times for the whole practice. With TritonWear you can watch a lot more swimming and provide a lot more feedback and still give kids those times when they want them or need them."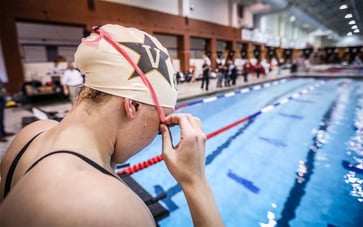 Traditionally, coaches can get stuck collecting metrics for one swimmer at a time and lose track of the rest of the swimmers in the pool. But with TritonWear, coaches have the assurance that data is being collected and compiled for all swimmers in the pool simultaneously, giving them the space to observe more of the action.
As Jeremy explains, it's much more efficient to be able to watch the entire practice unfold and then pull up data for specific swimmers based on observations. "I really like having everybody's information instantly accessible for myself during the workout, so that I can relay it back to the swimmers." Because data is collected in real time, a coach can simply pull it up on his or her tablet and immediately give valuable feedback to swimmers, resulting in improved performance mid-practice.
TritonWear is also used as an educational device outside the pool. Brent Mitchell of Metroplex Aquatics teaches his swimmers the importance of stroke efficiency with the help of TritonWear data. He tasks swimmers with determining what stroke length creates the most power per stroke; the stroke index metric, which TritonWear calculates automatically in real-time, is an accurate indicator of efficiency.
Asking swimmers to experiment by tweaking their strokes is very impactful when they have immediate feedback in the form of raw data – especially for this tech-savvy generation. "It builds their confidence that when they do it right, it equals out to better times," Mitchell says, claiming the technology has made his swimmers more involved in the technical aspects of their races. "I think it goes a long way."
Another benefit to using TritonWear as an educational tool is improved athlete-coach relations. "It's easier to talk to swimmers because they can see all of the variables that I see when they're swimming," Mitchell says.
He's found that TritonWear gets his swimmers asking better questions about their swimming, and increases the level of mutual trust since there is hard data to back up his observations; in this sense, the technology fundamentally changes the way coaches and swimmers interact. "As a coach, I've always been able to do things on a feel. But now, I'm able to look at the numbers to back up what I saw." TritonWear gives him an extra layer of confidence in the decisions he makes.
But one of the most valuable functions of TritonWear is in its long-term application. Data can be uploaded to an online database so that swimmer progression can be tracked over the course of an entire season. This makes it easy to identify areas of weakness in a swimmer's training so that real improvements can be made.
When analyzing data on the app, Bruno Langlois, head coach of the Bergens Swim Club, noticed some inconsistencies in the pacing and stroke efficiency of one of his swimmers. After addressing this weakness using the technology to monitor and tweak Ariel's metrics, she went on to win the Norwegian National Championships and break a junior national record.
TritonWear has the power to revolutionize coaching. "I would recommend TritonWear to any swim coaches I've met," said Ben Titley, head coach of Canada's 2016 Olympic Swim Team. "This is the way elite sports are going."