Rio 2016: Women's 200m Freestyle Race - a Data-driven Look at How Katie Ledecky Won
Every race is exciting when it comes to swimming, right? But what if we could dive deeper than just watching the race? What if we could actually analyze the race to figure out why Katie Ledecky wins. Here at TritonWear we've done exactly that, analyzed explained key points in Katie's race.
During the Rio Olympics in 2016, Sarah Sjostrom of Sweden and Katie Ledecky of the United States had a very close race in the 200 Free, until the last lap. Or at least that's the resounding message. But let's stop for a moment and really analyze this race.
Starting off it looked like the competition was in Emma Mckeon's favour, but she fell off as the race progressed. It then appeared to be a race between Sarah Sjostrom and Katie Ledecky. However, when we dig a little deeper into the data with TritonWear technology, we clearly see there were two types of swimmers in the top 4 places during this event. Emma and Sarah swam incredibly similar races, while Katie and 4th place Frederica Pellegrini swam a nearly identical race.
If we compare all the metrics, we can immediately see where the differences were. Throughout the entire race, Frederica kept pace with Katie in all metrics except in turn times and time underwater. Frederica lost pace in the second lap because her turn time increased while her time underwater drastically decreased. If Frederica focused her training on improving her turns alone, she would give Ledecky a real run for the money.
The other two competitors, Emma and Sarah, again kept pace with one another throughout the entire race. In fact, for the most part they actually outpaced both Katie and Frederica. If the race were based solely in the efficiency of the stroke, Emma and Sarah were the clear front runners. They each took at least 5 strokes less on each lap, with the corresponding stroke rates, DPS and stroke index.
So, if Emma and Sarah were the clearly more efficient swimmers, how did Katie win? Judging by the numbers, analyzing the key metrics, we can confidently say stroke count and speed played an important role. Emma drastically dropped her speed between the first and third lap, while the others swam more consistently. The differentiating component between these competitors came down to turns and underwater time. Katie pulled out the win thanks to significantly faster 2nd and 3rd laps, which were a direct result of faster turns and much longer kick outs underwater.
As you can see from this analysis, gathering and analyzing as many metrics as possible changes the way we understand how and where swimmers should focus to improve their performance. TritonWear offers the insight needed to really specialize training in this way, to ensure Frederica and Katie are working on lengthening their strokes while all but Katie simultaneously work on decreasing their turn time and increasing their time underwater.
Don't just take my word for it through, check out our interactive analysis of this race. Poke around to see the specific numbers analyzed to decipher this outcome. We would love to hear your comments and interpretations around the numbers and what they might mean the next time these 4 get in the water together.
See the results, along with the complete metrics of this race here.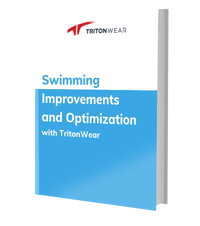 Learn more through various case studies, about how you can use data to improve your training and optimize your race strategy, in this white paper download. Or subscribe to our Knowledge Hub to receive content straight to your inbox.