Epic Showdowns in the Pool: women's 100m Butterfly - Sydney 2000
After a series of career disappointments that culminated in falling short of qualifying for the 1996 Olympics, Inge de Bruijn rocketed back to the top of the world in the spring of 2000 when she beat or equaled seven world records in two weeks. The Dutch swimmer arrived at the Sydney Olympics as a favourite to win the sprint events; but nothing could prepare the world for her utter domination at those Games.
The Return of de Bruijn

It was de Bruijn's 100m butterfly that kicked off her impressive winning streak. She broke the Olympic record in the heats and then lowered it in the semifinals. All eyes were on the Dutch phenomenon even as she dove in for the final beside worthy competitors Petria Thomas of Australia, Martina Moravcova of Slovakia, and American sprint legends Jenny Thompson and Dara Torres of the United States.
De Bruijn executed a near-perfect race, dominating the field for the entire 100 metres. Her turn time of 0.87 seconds blew away her competitors. Her powerful dolphin kicks off the wall gave her a sizable lead, lasting longer than her competitors at 3.58 seconds. She stayed consistent holding the same stroke rate of 1.07 seconds per stroke in both lengths. It was the last length where she kicked her intensity into high gear to clear the final stretch. Her splits are a model for pacing – 26.67 on the first 50, dropping 3.27 seconds to 29.94 on the second.
De Bruijn obliterated the field, taking the gold by a whopping 1.36 seconds over Moravcova. Her final time was 56.61 seconds smashing the previous world record. All around, it was an outstanding performance that solidified her standing among the greats in the sport. Her sprint domination at the Sydney Olympics was nearly unprecedented and earned her the title of Female World Swimmer of the Year, as well as the nickname "Invincible Inky."
Her world-record in the 100 fly stood for nine years until the high-tech suit summer of 2009. Still, de Bruijn is recognized as one of the most accomplished swimmers of the past couple decades. Her 100 butterfly in 2000 will continue to go down in history as one of the greatest performances of all time.
See the results, along with the metrics, here.
Check out another epic showdown from the 2008 Beijing Olympics: men's 100m butterfly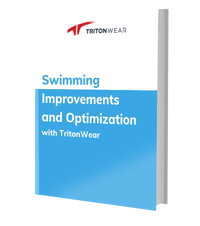 Learn more through various case studies, about how you can use data to improve your training and optimize your race strategy, in this white paper download. Or subscribe to our Knowledge Hub to receive content straight to your inbox.