How to: Device Maintenance and Data Collection
With all technology, some device maintenance is recommended to maximize the features and functionality; TritonWear is no different. Our desktop app is the tool designed for coaches to do this. However, being designed to serve this specific purpose also means it's infrequently used. This week we will de-mystify the desktop app, explaining how to utilize it to enhance your overall experience with our platform.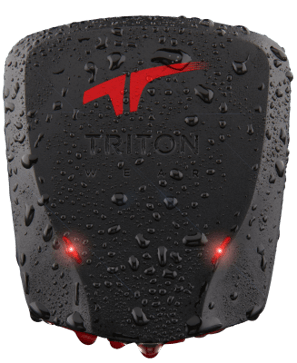 So what are these specific purposes?
The desktop app is designed to accomplish two things; update software, and provide invaluable raw data to our technology team for analysis and validation.
Upgrading TritonWear software helps keep your devices functioning at their best, and ensures you have access to the latest features as they are released.
Uploading data can serve one of two purposes; helping us learn and improve the solution, or helping us analyze and answer specific data related questions you may have.
If that wasn't enough, there is a bonus as well! We all know chlorine and water are collaborating to disintegrate our equipment, so its beneficial to inspect units regularly. The update/upload process provides a great opportunity to ensure units are in peak physical condition.
In case you don't already have it installed, here is the link to download and install the desktop app on your computer: https://www.tritonwear.com/en/tools/
Alright, what's the deal with upgrading devices?
Upgrading your device provides access to the best possible version of TritonWear. We frequently release updates, which include new features and data collection improvements. Each release is carefully curated and tested to provide an exceptional experience for our users. When an update is available, you will receive a notification, via email or TritonWear Live (the mobile app). We recommend updating as soon as possible.
To ensure your upgrades go smoothly, check these items off before you begin:
Cables and device connectors are clean, and the connection is not loose.
Internet connection is stable.
Devices are completely dry. Plugging in a wet device can cause irreparable damage.
Pro tip: to speed up the process of updating your devices, use a charging hub to plug in and update multiple devices at once.
Now you are ready to update your devices, here are the few simple steps to success: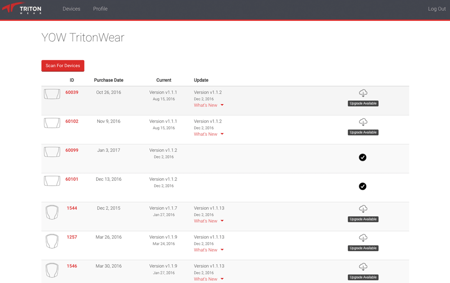 Open the app and log in using the same credentials as both TritonWear Insights and TritonWear Live. Once logged in, a screen will display your connected devices and hubs. Devices awaiting an upgrade will display details in the Update column, and indicate 'upgrade available' with a cloud icon. To read what is included in the update, click "What's New". Devices already running the latest software will display a checkmark.
To update devices requiring an upgrade, plug each of them in. The lights on the device will turn orange, and the associated row on the app will update to display two options: 'Upgrade' and 'Upload Raw Data'.
Click the upgrade button. It will immediately show a message indicating the upgrade is in progress. Depending on your connection speed, and the size of the update, a progress bar may display indicating either downloading or installing while in progress.
Once the update is complete, you will see a checkmark where the upgrade button was.
This entire process should happen very quickly and smoothly. However, if the process is interrupted, the device may become unresponsive. This can be reversed with a quick hand from our support team. There are just a couple key points to remember if you find yourself in this scenario:
Until the device can be fully updated, it is important it maintains a battery charge. Leave it connected to a power source and contact us to help restart the update process
Please do not try to reset or press the power key; this is the only way to ensure the device becomes a paperweight on your desk
Uploading Raw Data
Although no one has more accurate data than us, we are always striving to do better. Having coaches regularly upload raw data helps us continually enhance the way we collect and analyze it, to improve accuracy and introduce new features. It is especially helpful when data uploads are coupled with complimentary video footage.
We use the video and raw data combination to analyze the effectiveness and accuracy of our processes, which in turn creates the updates we release. To start, we suggest setting up cameras beside the pool to film your practices, or have someone walk up and down the deck filming a swimmer. An injured swimmer or an available trainer or coach make a great candidate for this role. We encourage all our teams to collect and submit their data as often as possible, as it enabling us to support your specific swimmer's styles.
In addition, if necessary, we will request specific data uploads to help work through questions you may have around data results for your workouts. If you are not sure why a metric has returned a certain way, you can report this and we will review the data to explain what is going on.
To upload raw data start out very much the same as upgrading your software. You will log into the TritonWear desktop app and plug in the device used during practice.
Click the button labelled upload raw data.
A window will open for you to explain the details around your upload, to help us categorize and analyze the data. The details requested include:
Indicate if your upload relates to a specific question, or is just a general upload
Enter the date of the swim
Selecting the swimmer
Indicate the pool size and type (indoor/outdoor)
Describe the entire workout session (sets, drills, etc.)
If applicable, provide a description of the question
If possible, upload a video of the practice or the part relating to your question
Provide any additional general comments
Once all data is inputted you can begin to upload the raw data. Once again, ensure your internet connection is stable and the device is dry and clean.
When you click upload, you will see a pop up asking if you are sure you want to upload data, say yes please. The lights on the device will then turn purple, and the app will begin to read and upload the data. This process should take no longer than 5 minutes, if it takes longer, stop the process, restart the app and start again.
Once the data upload is complete, the screen will return to display the upload raw data option. You can now safely disconnect your device. Whenever you upload data, it is best to also shoot us a quick email to let us know. If it relates to a specific question, let us know what that is as well, so we can get right on it. Thanks for the data!
To learn more about uploading video and data to help you, contact us and we'll let you know what you need to do to collect good data.