First 30 Days: Making TritonWear Work for Your Team
Have you ever experienced the emotions of un-boxing a new gadget? Whether it be a shiny new tech, kitchen or workshop gadget, the feeling is similar. The package arrives, your anticipation rises as you open it imagining all the wonderful things it can do. Then the realization hits you - wow, there is a learning curve to using this thing. The next few hours, days and weeks are spent playing around with it. Sometimes even reading a manual or two to really understand the little details to make the most of it. This is exactly how the relationship with TritonWear starts as well. Knowing how critical this time is in your overall experience, we have identified milestones to get you through it successfully. Let's talk a little about the ideal first 30 days, so you know what to expect.
Getting set up
After finalizing your initial TritonWear order, you will receive an email invitation to the platform. This initiates setting your team up, and inviting the coaches and swimmers who will utilize the system. Once profile setup is complete, there are a few additional items you could consider purchasing, such as:
iPad: for the best user experience, iPads are recommended over other tablets. specifically the 9.7 in model.
Charging station: an inexpensive add on which make managing many units at once much easier.
Waterproof iPad case: because water and iPads aren't friends
Large screens on deck: this may be trickier to coordinate with the pool for permanent placement. If its possible, it's highly recommended
With the prep work complete, in front of you sits a box brimming with endless opportunities to help athletes improve; let the un-boxing begin! The first step is turning each unit on, charging it, and validating the latest firmware version is installed. This is where the charging hub comes in handy, allowing you to connect several units to our desktop app simultaneously, to validate the firmware version installed on each. Once everything is fully charged and up to date, the equipment is ready for the first workout.
Educating athletes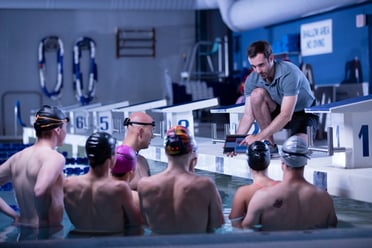 Inviting athletes to set up a profile isn't enough to gain their buy in for using the system. Athletes need to understand what TritonWear is, as well as how it impacts performance improvements and contributes to overall success. They also need to know what to expect during practice, and what is expected of them away from the pool. One of the most critical items to check off in the first 30 days is hosting an education session to cover these items with all athletes. A few key outcomes of this meeting might be:
Identify focal metrics to start with
Agree on a buddy system to ensure proper unit placement
Know what their looking for in TritonWear Insights
Agree on types of feedback to bring to the coach for review
For more ideas on how to engage athletes and keep them excited, check out this post from a few weeks ago.
Getting used to collecting data
This is where the magic really begins. The key to the first few practices with TritonWear is simply getting a feel for the way data is captured, calculated and categorized. Ideally the first practice should be a slower training day, to afford time for testing.
Begin by perfecting unit placement. We recommend running a simple set like 4 x 100 FR @ 1:45, to see how unit placement impacts the results. Review data after each rep, adjusting unit placement data returns as expected. Over the course of the first few weeks, athletes will recognize where units should sit for the best data capture and comfort. We can't emphasize enough how critical it is to get this right.
With unit placement perfected, turn your attention to how workouts automatically build out as each length, rep or set is completed. Notice how the amount of effort put into starts, turns and finishes directly impact how the system captures each metric. Ensure athletes stand upright when completing a rep or set, as this is how the device recognizes swimming has stopped. If an athlete goes into a float rather than standing for a second after a rep, the device may not recognize the end of the length, not end the rep or set.
This is the beginning of a new era of coaching and accountability in the water for you and your team, congratulations!
Syncing workouts
With the first practice behind you, there is one more step to sync the data with each athlete's profile. When you stop the workout, you will see an end workout screen. This will include an option to upload photos, a summary of all swimmers and an opportunity to rate your experience with TritonWear for the workout. If you have a wifi connection, the data will sync automatically. If not, it will start automatically the next time you connect to wifi.
As soon as the data has been synced each athlete will receive an email notifying them their workout is ready for review. It is a good idea to remind athletes at the end of practice to watch for this email. The key in the first 30 days is to build a behaviour of athletes logging into insights to see what was captured after each practice. Tell athletes to focus of specific metrics other than speed. This will help them become more educated on the different aspects of their performance.
Benchmark a test set
Now you have a few practices under your belt, and have worked out any kinks with unit placement and strong starts, turns, and finishes. Its time to really start bench marking where athletes are today, so you have a starting point to gauge progress against. It doesn't have to be a "test set" by the traditional definition. It could simply be a set you run on a semi-regular basis (once every month or two), so you can track changes over time. One of the great tools built into TritonWear Insights for this is Tags. You can use tags to recall specific sets over time for comparison. There is an entire post on this topic alone, you can find it here.
Review data on TritonWear Insights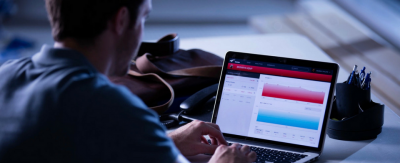 It is a good idea to periodically take a step back from the granular day to day data, to review on a larger scale. This provides an opportunity to quickly recognize progressions or regressions in performance. This task won't make sense until you have a number of workouts for athletes, as comparisons need time for information to change. To read more about how to utilize TritonWear insights for this purpose, read this post.
The stage is set
Within the first 30 days you have un-boxed your shiny new gadgets, and set them up. Educated your athletes to instill the importance of the system. Developed a habit of using the system at nearly every practice, so data will be there when you need it. You've also established a tagging process to recall sets for review, and run a test set to bench mark against.
Your athletes have perfected unit placement, as well as strong starts, turns and finishes on every rep, to ensure accurate data collection. Everyone has developed a habit of checking and discussing data regularly. You are all well on your way to a successful future with TritonWear.
Beyond the first 30 days
As you continue to grow in your use of the system, it is increasingly important to maintain good long-term practices. Over time reviewing data should become second nature. Discussions around results will increase, as athletes become more invested in their performance. Ideally, each athlete should arrive at each practice with questions or feedback based on what they saw. Many coaches dedicate up to 15 minutes before each practice to being available for data discussions. Explaining what something means, or how to interpret results. The more invested athletes become, the more successful the program will be.
Another way to keep athletes invested is to feed their competitive nature. Once they are personally tracking their own progress, make a competition out of comparing metrics within a lane, a squad or the entire team. Set targets for most improved on a metric, a set or over a longer time. Offer awards for longest DPS on a technique building set. Reward athletes to bring feedback and questions.
Finally, with the fundamentals in place, it's time to incorporate the fun stuff. Use the emoji feature in both TritonWear Live and Insights to provide fun feedback. Give a 'thumbs up' when an athlete has a great practice. Poke a little fun with a 'thumbs down' for a lackluster effort. Or offer up a bulging bicep for a particularly strong performance. This is a great way to celebrate the small wins along the way to the PBs which inevitably result from using this system well.
Whatever you do, keep it fun, and light, but always remember the end goal. To use data and insights to drive performance improvement in the moments that matter.