Featured Athlete: Martha McCabe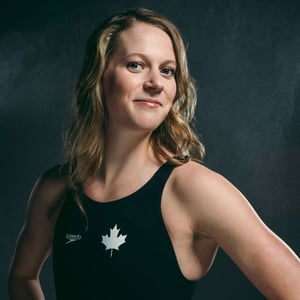 Martha McCabe has been a dominant force in Canadian breaststroke for over half a decade. While training under world-renowned breaststroke coach Jozsef Nagy in Vancouver, she won a bronze medal in the 200 breaststroke at the 2011 World Championships in Shanghai and placed fifth in the same event a year later at the London Olympics.
In 2013, after moving across the country to swim for Ben Titley in Toronto, Martha sustained a serious injury that impacted her training and racing for multiple seasons. However, she didn't quit and fought a long uphill battle on her road to recovery. She stayed strong and recently placed second in the 200 breaststroke at the Canadian Olympic Trials in a time of 2:25.13. Her time was fast enough to qualify her for the Canadian Olympic Team bound for Rio this summer.
Martha credits her coaches Ben and Jo for working with her tirelessly during her long recovery process and ultimately helping prepare her for Olympic Trials. Nevertheless, her achievement is incredible considering the extent of her injury. I was training with Martha in Toronto when she got injured, and I remember her perseverance against the challenging circumstances. I recently caught up with Martha to ask her how she bounced back from her injury to qualify for the Rio Olympics:
What was your injury and how did it affect your training?
Officially, I had a stress fracture in the distal part of my clavicle. We don't fully know what the cause was, but it was probably from overuse while doing overhead weights – I have a smaller bone structure than a lot of other swimmers.
As a result, I couldn't lift my arm above 90 degrees for three weeks. That meant an excessive amount of kick with my arms at my sides. Ben and I had to find alternative strategies so that I could continue to train without my arm. The difficult part was my progress was based on pain level, so it wasn't clear how soon I would be healed. In total, it was a few months before I was back to regular training.
What was the toughest part of being injured and how did you overcome it?
It sounds strange, but the toughest part of being injured wasn't during the injury itself. I'd never had an injury before so I didn't take it that seriously. It didn't really sink in – I just kept thinking it would go away tomorrow. I approached it in a daily way so it didn't get me down.
The next season was the toughest part. That's when it fully sank in. I was able to train fully again, but I realized what an impact my injury had. It was hard to overcome that. I just had to keep trekking and trusting in what I'd been doing my whole life. I worked with Ben – we gave each other feedback and communicated a lot. That really helped me overcome it.
How did you decide to move back to Vancouver for Olympic year?
There wasn't just one reason – a lot of factors went into my decision. Working with Ben was awesome and I learned a lot from him. But I knew I was nearing the end of my career and I figured: maybe I can try to make a big move and put it all in. Even though I got a medal at the Pan American Games, I wanted to be faster.
Jo and I have a great relationship and he specializes in the 200 breaststroke, so I knew that swimming for him again would work for me. The original reason I moved back to Toronto after university was to be near family and friends – but I decided to put that aside for Olympic year and focus on my swimming. I knew it was a good decision after I moved back to Vancouver because it was like a weight was lifted off my shoulders – it felt right.
What were your expectations heading into Olympic Trials?

Five weeks out of Trials I was aiming to win the 200 breaststroke in a best time. But my final preparations were a little off. I'm not sure what happened exactly. Maybe I wasn't fully rested – it had been four years since I had tapered with Jo, and it's possible that I just need a little more rest now that I'm older.
Whatever it was, I was still very excited for Olympic Trials. I knew that if I wanted a chance at making the Olympic Team, I would have to give my very best 200 breaststroke based on where I was at that moment in time. And I did succeed in that.
How did you handle the pressure of the 200 breaststroke final?
Some people get very worked up for Olympic Trials, and it either works in their favour or it works against them. Thankfully I'm not like that – high pressure situations make me more grounded. I'm able to let my emotions go because I'm very aware that I'm just swimming a race. That's how I approached my final. I told myself I'm just doing a 200 breaststroke like I've done so many times before, and it helped me avoid getting caught up in everything that was going on around me.
I had a huge support network of family and friends at Trials to cheer me on, which was awesome. But I took a few days before my race to cut them out so that I wouldn't be thinking about external pressures when it was time to swim. Like I said, I knew I would have to give my very best 200 breaststroke to make the Olympic Team, and I knew I would have to be totally focused to do that.
I also knew the last 25 meters would make or break my race. I was so focused coming down that last length, my mind was still in the race when I touched the wall. Everyone was cheering and I had no idea what was going on. I was asking people: did I make it? It took me a while to figure out that I was on the Olympic Team.
Looking forward, what are your goals for the Olympics?
Jo and I are going to make some tweaks to my final preparation phase so that we're both confident I'm fully rested heading into Rio. I'm going to give him constant updates on how I'm feeling 7 weeks out, 5 weeks out, and so on.
I know that a 2:25 will only get me a semi-final swim, and my goal is to be in that final like I was four years ago in London. Once you're in the final, anything can happen.
Do you have any final tips for bouncing back from an injury?
My biggest piece of advice is to take it day-by-day. Don't get too far ahead of yourself and think too far down the road, or else you'll get anxious. Only worry about the things you can actually control. Body awareness is really important when you're injured, because you need to communicate with your coach exactly how you're feeling.